Teaser Book Review: Hearts in Harmony by Beth Wiseman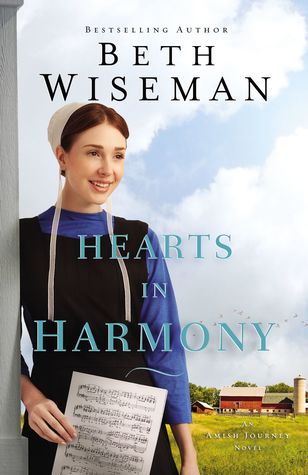 About: They both love music. Will God deny what brings them such joy?   
Musical prodigy Levi Shetler hasn't touched a piano since he secretly played one years ago. His strict Amish community forbids instruments or the singing of any music not in their approved songbook. Levi asks God often why music tempts him when playing an instrument isn't allowed in his world.
One person knows Levi's talents: Mary Hershberger, the girl who promised years ago to keep his secret. Mary comes from a more liberal district than Levi, but she's facing family troubles of her own. The mutual care for an aging Englischer, Adeline, reunites Mary and Levi as young adults. They realize that, despite their differences, they have a shared love of music—and a shared confusion about whether their talents are God-given gifts or temptations luring them into the Englisch world.
The couple realizes they must compromise or part ways, but a tragic accident shakes their decision. Both Mary and Levi will need to reconcile what they love with what their hearts say is right—because even as their passion for music brings them together, it could be what tears them apart.
The first novel in the new Amish Journeys series by bestselling author Beth Wiseman, Hearts in Harmony explores how far the heart will travel for the melody of love.
Full review to come on 4/11/2019.
My Review:
Genre: Amish, romance, and kinda Christian fiction.
My Rating: 4 and 1/2 stars.
My Verse for this book is Psalm 95:1
O come, let us sing unto the Lord: let us make a joyful noise to the rock of our salvation. (King James Version.)
My Thoughts: Whoa, an Amish book I LOVED, you see I like Amish books but I don't love them . . . that is until this one fell into my hands.
Disclosure of Material Connection: I received this book free from the publisher through the BookLook Bloggers <http://booklookbloggers.com> book review bloggers program. I was not required to write a positive review. The opinions I have expressed are my own. I am disclosing this in accordance with the Federal Trade Commission's 16 CFR, Part 255 <http://www.access.gpo.gov/nara/cfr/waisidx_03/16cfr255_03.html> : "Guides Concerning the Use of Endorsements and Testimonials in Advertising."
A. Kaylee is an author, blogger, and sister to 7; she enjoys reading, writing, and doing school which she is excited and sad to be in her second to last year of homeschool.
When she's not writing Kaylee is likely reading, or spending time with her family.
Indie-publishing her first short story on January 31st, 2019 while working on the first draft to three full-length novels that she hopes to one-day indie-publish. One a spy-thriller, another a sequel to Rooftop Sanctuary, and the last is a secret!
P.S. A. Kaylee's posts may possibly contain affiliate links: if you buy through the links on her blog she may receive money with no extra cost to you, thanks for reading!